Can Art Change the War? An Update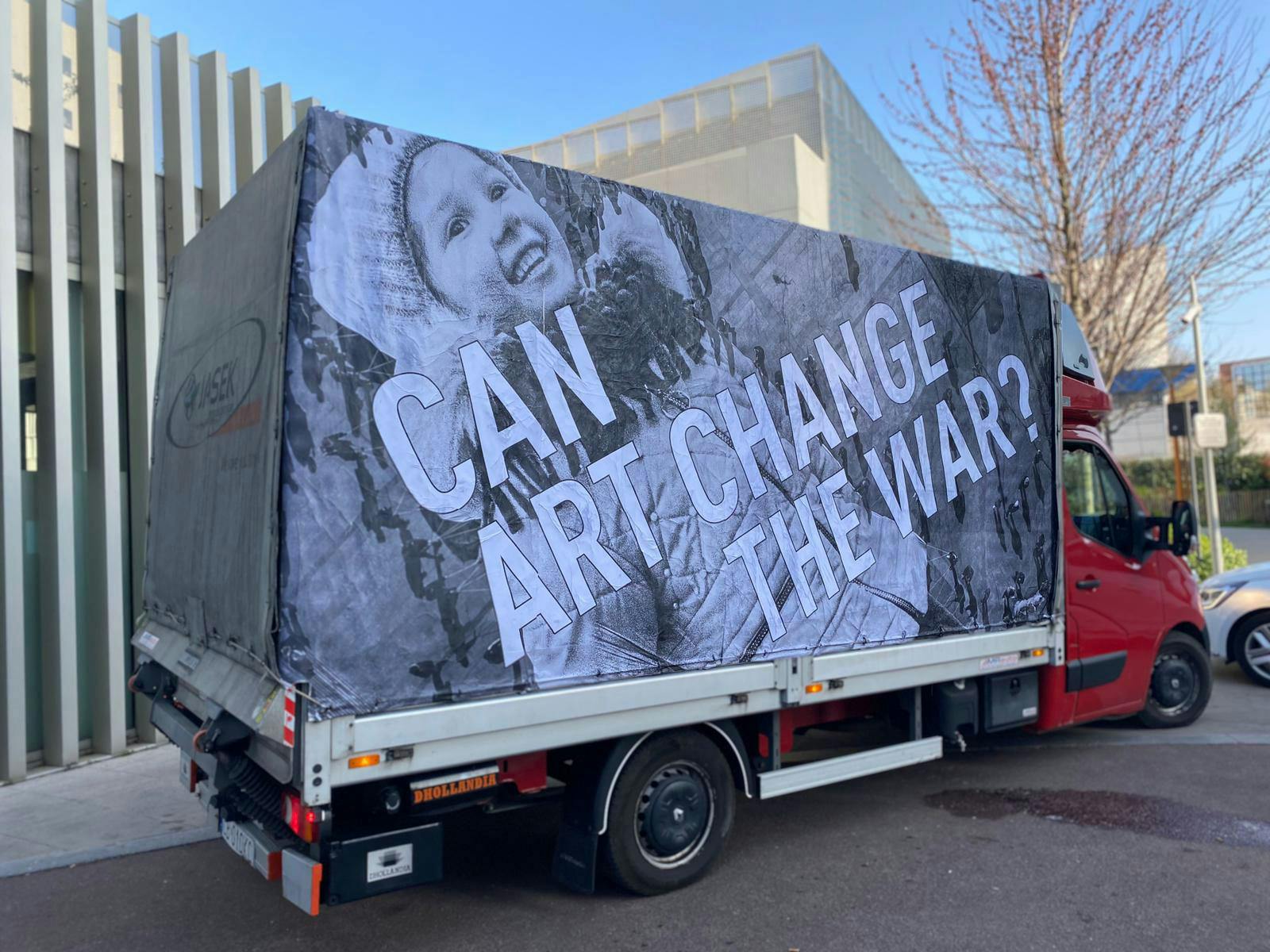 Can Art Change the War? An Update on the Solidarity NFT Project for Ukraine
March 20th, 2023
In March of 2022, JR, with the help of 100 volunteers, unfurled the portrait of five-year-old, Ukrainian refugee Valeriia in Lviv, Ukraine. Leaving Ukraine, JR saw firsthand how difficult it was for women and children to get to safety due to long queues at the border. In response, he released two NFTs of Valeriia as part of his solidarity project titled: Can Art Change the War?

More than 1,600 other people responded to his call. Thanks to all the support, JR's team has been able to aid tens of thousands of Ukrainian families.

Following the release of the NFTs, a dedicated team was formed. With the help of partners on the ground in Ukraine, the team was able to evaluate the population's needs and deliver fast and relevant aid. Between March and June 2022, ten trucks drove from Paris, France to Medyka at the Polish border. There, a team responsible for dispatching the shipments in Ukraine took over.

The shipments mainly consisted of non-perishable food and hygiene products as well as blankets when winter began. Our team also provided strollers to serve mothers who were alone with their children in refugee camps. Over four months, 25 tons of goods were delivered to the Ukrainian border, Lviv, and Kyiv, serving more than 100,000 Ukrainian families.

A special thanks to the NFT Culture team for their help on the Can Art Change the War? project. And a huge thank you to everyone who supported the solidarity NFT project. With such an outpouring of support, JR and his team were able to help organize three other initiatives that improved the lives of Ukrainians at home and abroad. 

One of these initiatives improved access to safe drinking water in Ukraine. The destruction of infrastructure has left more than 6 million Ukrainians without access to clean water. To address this crisis, the JR team also dispatched twenty vehicles with filtration systems that, in total, produce 100,000 M3 of drinking water.

Further, the JR team helped Ukrainian refugees transition to Tuscan society by partnering with the volunteer organizations IRIS and Onuka. The programs included English and Italian language courses, professional development trainings, activities at a cultural center, and a summer camp for children. After participating in the programs, children and parents reported feeling less alone and happy to have found a community of other Ukrainian refugees.

The JR team also worked with the YAMBI association in the French Alps to organize concerts by Ukrainian musicians in France. In addition, the team supported the European Podcast Tour organized by DFT Magazine. Beginning this past October, the mobile podcast and gallery began touring across Europe, recording voices of and being a platform for Ukrainian artists dispersed around the continent.

Thank you again to everyone who helped bring the Can Art Change the War? project to life and supported Ukrainians during this crisis. To learn about JR's other initiatives, check out Can Art Change the World? Inc. Founded by JR over a decade ago, the non-profit organization uses the power of art, culture, and education to spark social awareness and bring about change in communities around the world.