"La Ferita," Galleria Continua, 2023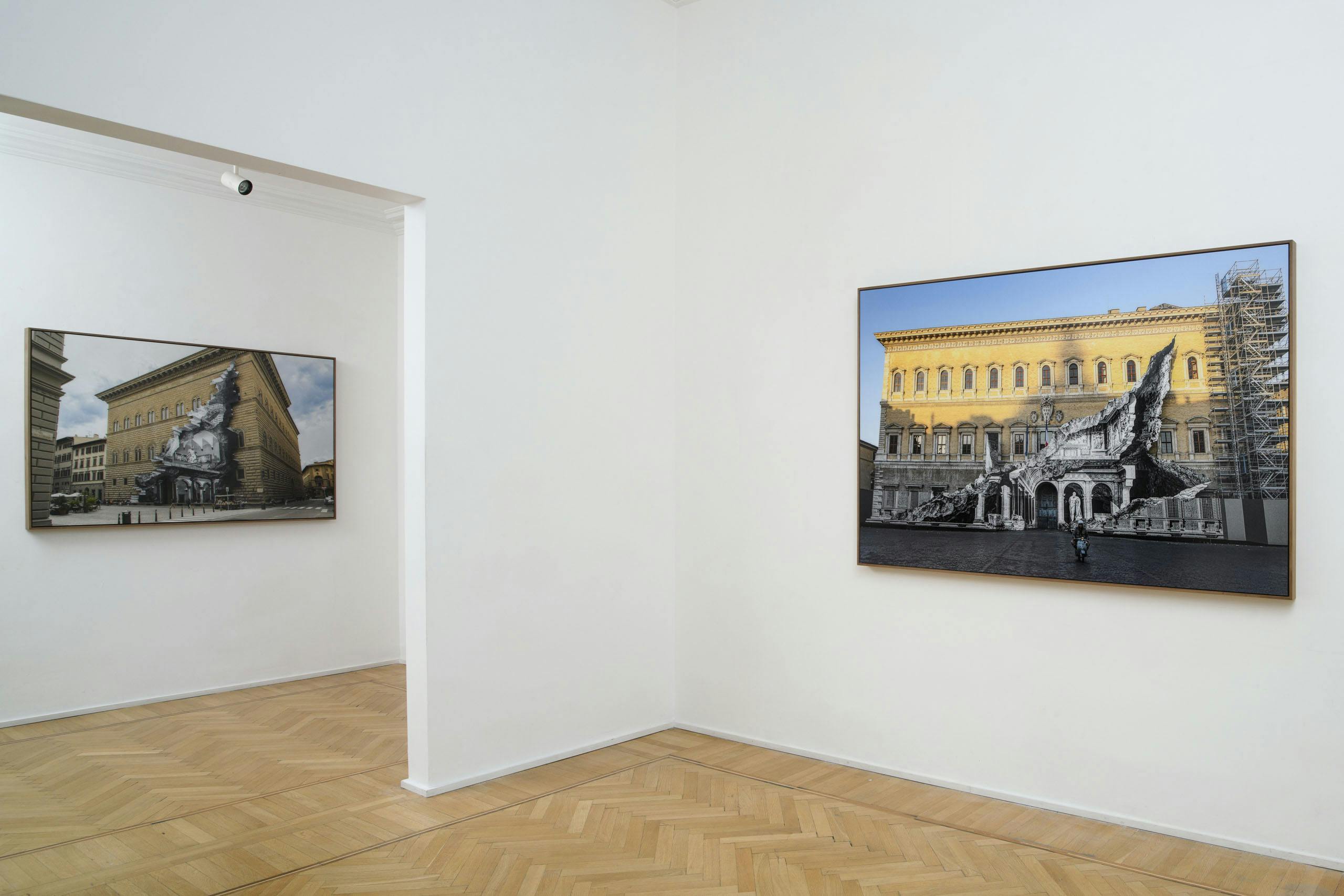 "La Ferita," Galleria Continua, Rome, Italy
September 15th - November 20th, 2023
JR's exhibition La Ferita at Galleria Continua brings his biggest and most iconic trompe l'oeil works together for the first time. The show includes a number of photographs of JR's 2021 anamorphoses in Rome, Florence, and Paris. For the works Punto di Fuga and La Ferita, JR split the facades of the Farnese Palace and Palazzo Strozzi, creating a window into imaginary exhibition halls filled with classical architecture and relics, such as an upside-down Birth of Venus and Salviati's frescoes. Installed when society was still recovering from Covid-19 lockdowns, these works of public art became viral symbols of the inaccessibility of culture during the pandemic and served as messages of hope - behind closed doors, the treasures of the cities were still alive, all the more reason to hold on.

Alongside his large-scale photographs, JR created the first Work In Progress pieces from the La Ferita and Punto di Fuga series specifically for this exhibition. Together, they unveil the meticulous preparation and stage the essential elements in play for the execution of these monumental installations. Preparatory drawings, site photos and layout plans are printed, laser-cut, and layered together to form images that bring to light JR's creative process.

Splitting the facade and floor of the gallery, JR installed a never-seen-before in-situ anamorphosis. The piece enables visitors to experience the intention of his trompe l'oeil series - to unveil what is, was or could be hidden from our sight, forcing us to question our own perspective. 

The exhibition concludes with works presented in the Cabinet de Curiosités, which allow us to appreciate the diversity of JR's wider practice, whether in terms of medium or projects. From his emblematic seriesLes Bosquets to his first large-scale anamorphosis at theLouvre and his most recent projectDéplacé.e.s, this selection allows visitors to grasp the guiding principles behind JR's work - community, identity, and freedom.